One of the most efficient ways to clean a septic tank or a pit is to use an industrial vacuum source to remove the waste and debris. In most situations industrial vacuuming is the best solution than traditional cleaning options. Plumbing Innovators Industrial owns and operates two large sewer/septic trucks equipped to handle large scale industrial VAC jobs throughout Central Virginia at fair and competitive prices.
List of some specific uses and how we can employ industrial VAC services.
Industrial Vacuuming is a simple solution for cleaning and removing waste and debris from septic tanks and alternative septic systems. Our advice….don't wait until a problem arises or it can be very messy.
VAC services can be used for multiple situations facing landfills including removal of hazardous waste such as leachate from holding ponds.
Water Treatment Facilities
Maintenance of water treatment facilities can ensure that these major systems are operating at top efficiency. Industrial VAC can be used to remove built up sediment, silt and waste. We have experience working with County/City Public works throughout Virginia.
Storm water drains can become clogged or even blocked with debris leading to poor drainage or flooding. Industrial vacuuming can be used to clear/remove debris and can be paired with hydro-jetting to clean and clear lines.
Restaurants – Grease Traps
Grease traps at restaurants should be cleaned regularly and one of the most efficient ways to do this is with industrial vacuuming.
Car Washes, mechanic shops and other commercial facilities have sediment pits for containing hazardous waste. Industrial VAC is a great solution for cleaning these.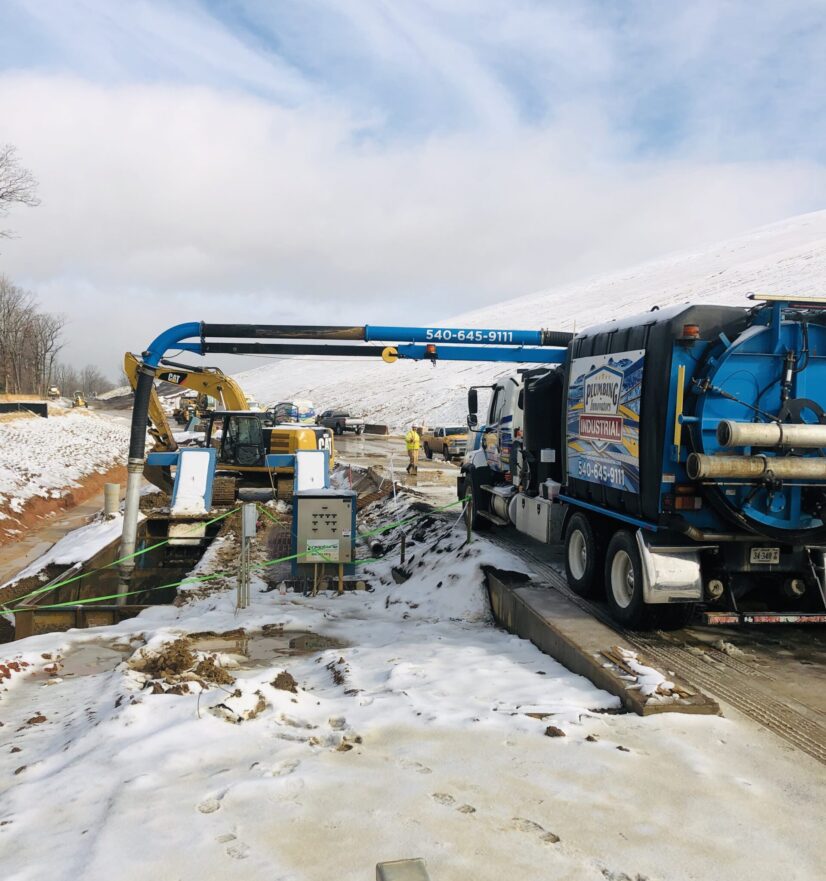 Industrial VAC of sediment pits at Waste Treatment facility (landfill) in King George, Virginia.
Interested in Industrial VAC Services
Schedule a Consultation